Business Risk and Liability Management
Your Business - Your Employees
How do you choose the best small business insuranace company?
"Working with my business insurance advisor at OC it was amazed at how much insurance and benefits where actually costing me. Thanks to her help, we are now saving over $2,000 per month."
—Tom C, Business Owner, Stamford CT
Our Business Insurance & Benefits Optimization Analysis™ reviews the 12 types of insurance a small business owner should have (or at least understand the implications of NOT having). Our Program delivers an insurance scorecard that business owners can used to better manage an area that is critical to expense management and liability protection but often does not get the attention it deserves until...it's too late!
Select a trusted independent agent that meets the highest quality standards, offering personal service and trusted advice to help protect your business from the unexpected—bad weather, accidental damage, theft, liability lawsuits, and more.
Compare value - the cheapest rate may leave you with less protection than you need. Our packaged small business insurance includes extras like data breach coverage at a price that works for today's small business owners, and can be tailored to fit your needs.
Compare claims services - you need claim services and 24/7 reporting to help you get back to business quickly after a loss.
Choose an industry-specific solution - instead of a one-size-fits all approach, we offer customized protection for all types of small businesses—offices, shops, retailers, wholesalers, consultants, technology firms, and more.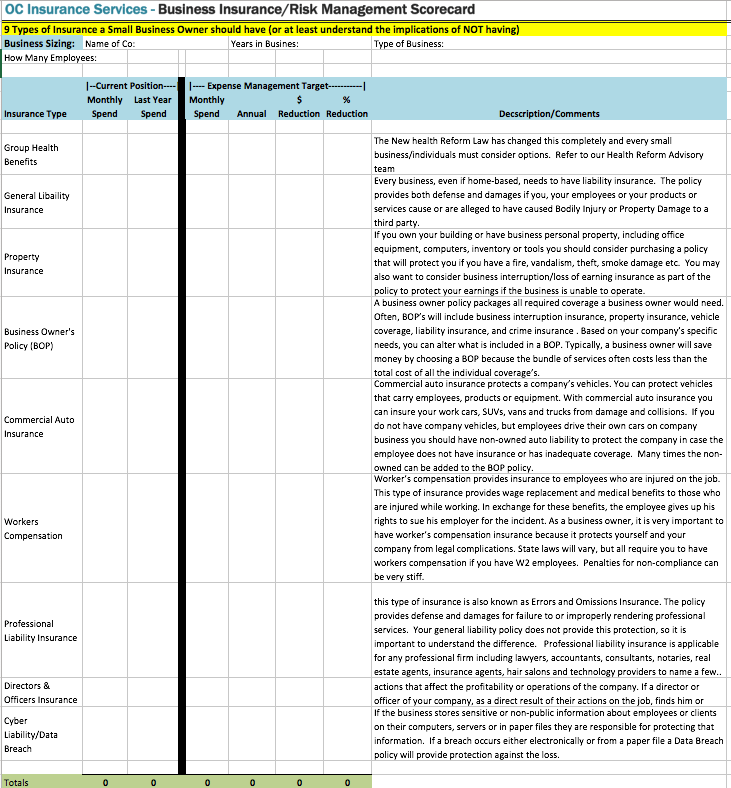 Watch & Learn About Protecting Business & Keeping Employees
Business Buy-Sell Agreements
9-Types of Insurance a Small Business Owner should have (or at least understand the implications of NOT Having.
Learn more about our total business insurance expense management approach. Scorecard template provided below